During my flight to Denver to attend the quintessential Salesforce event celebrating the amazing achievements of women in technology, I started thinking about why WITness Success means so much to me.  Gender has influenced my experiences throughout my life's journey. This year's WITness Success, themed Grit & Grace, celebrated the success of amazing women in Salesforce while calling attention to and embracing our differences.
Work Harder and Play the Game
My mind is calling me all the way back to High school: private, Catholic, almost entirely girls. This was a majority girl environment at an age in life when girls are more competitive and vindictive than any other time in their lives. The predominant stressor was not our school work; instead, it was the rumor mill and the bullying. Left with a 'kill or be killed' perspective on life, it was easy to be drawn into acting upon those same impulses. I was left with the feeling that in order to succeed in life, I had to crush every other woman in my way.
That attitude joined me in college where, majoring in Biochemistry my environment shifted from 90% female in high school to the same ratio but in reverse. My professors made me jump through hoops to prove my aptitude in ways that the men in my classes never did. I recall comparing lab reports with some of the guys in class, easily picking out mistakes they made that I hadn't, and heartbroken that their scores were higher than mine. I started working around the clock, busting my butt to ace my classes. By the end of undergrad, I found myself graduating with highest honors and being selected to speak at Convocation and Graduation (alongside former President Bill Clinton, an honor I cherish still to this day). College taught me that women need to work 100x harder than men to make it in science.
Grad school was more of the same, but I was not ready for the unrealistic expectations – working 60-70 hrs a week, always been knocked down a peg by the Professors, and the pressure to work faster and produce more before another lab scooped your discovery. The pressure was too much, sending my anxiety too an all time high; I announced my quitting the program halfway through my second year.
Early Career, Not Much Change
Having finished with my Masters, my post grad career options were limited. Most of the companies I found wanted not just Ph.D candidates, but also post-doctoral experience. I was able to land my first lab job as a lab technician – a job left almost entirely to female candidates. I was either pulled away from my own experiments or ended up working extra hours to order lab supplies, unpack and stock received supplies, or clean up the lab at the end of the day. For almost a year, they promised me a raise because I was CRUSHING it.
I was doing more than my job description.
I was excelling in my experiments.
I designed a database to revolutionize the way they tracked their experiments.
None of it was enough to make that raise a reality.
That database became my happy place. I loved building and customizing, getting the system to automatically graph the data to allow my coworkers to work smarter instead of harder. The database didn't criticize, it was reliable and rewarding – making me feel like I had control of something for the first time. I wanted more of that. Needed more of that.
My next job introduced me to this cloud based software called Salesforce. I had never heard of it before, but I was put as the lead of the project to migrate from our legacy system to Salesforce. I was hooked from day 1. I wanted to learn more and do more, but my opportunities were extremely limited there. The next few years passed in a blur of education and certification to bring me to today – Senior Consultant and Solution Manager for a Salesforce Consulting firm working solely with Nonprofit organizations.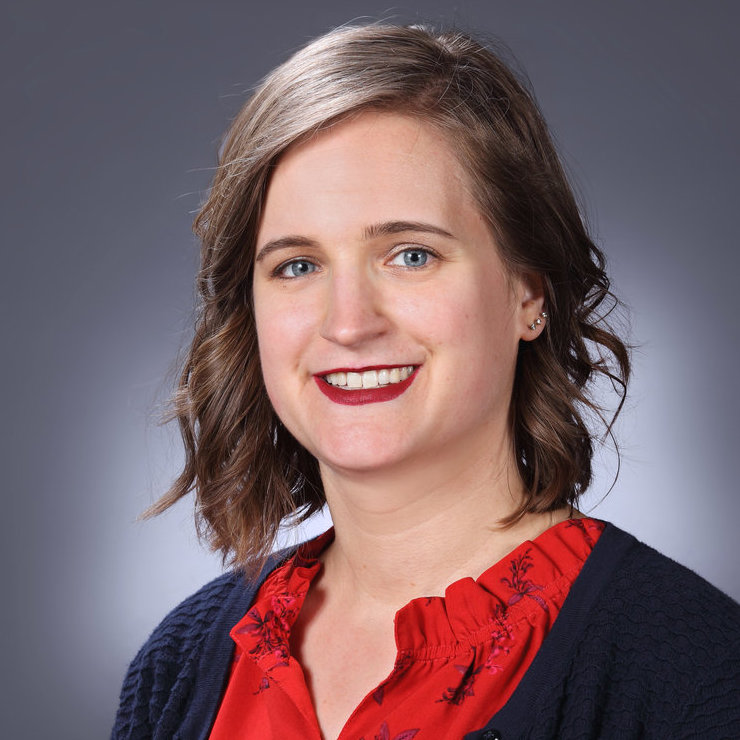 The Power of Community
The Salesforce Community is special – the specialness is hard to explain if you're not in it, but I'll try my best to give a little glimpse of the #Ohana.
Know Your Niche– Salesforce can be used to accomplish almost anything (I've even seen it control a robot!) and as such is a HIGHLY customizable platform. There's no pressure to know everything about Salesforce, which makes it easy, acceptable and welcome to admit you don't know something and ask for help. Everyone genuinely wants to help.
Push Your Boundaries– As business needs change, your organization may need you to do something in Salesforce you've never done before. But wait, there are about a million free or inexpensive resources to teach you what you need to know. In fact, I taught myself everything I needed to pass my Admin Exam through self paced online training, and that was even before Trailhead came out!
Share, share share– The community cares. They want to know and celebrate with your triumphs. They want to help work through your struggles. Heck, they even love the 30 millionth picture of your drooly kids or furbabies. It's an environment where everyone lifts each other up. I once posted about wanting to present at a session but that my anxiety was preventing me from applying. Within a few hours, I had messages of support from across the Salesforce #Ohana encouraging me to hit 'Submit'.
Make lofty goals and achieve them!

 

– You want to go for your next Certification? There's a study group for that. You want to try your hand speaking at a conference? There are about 50 events from regional dreamin conferences, world tours, or larger national conferences that accept community submissions for content. If that's too scary, start at your local level and present at a User Group (Raleigh-Durham has 4 user groups to choose from) or even lead one. My personal goal for this year was to present at a National Conference – and that brings this story to the present – my journey to becoming a WITness Success speaker.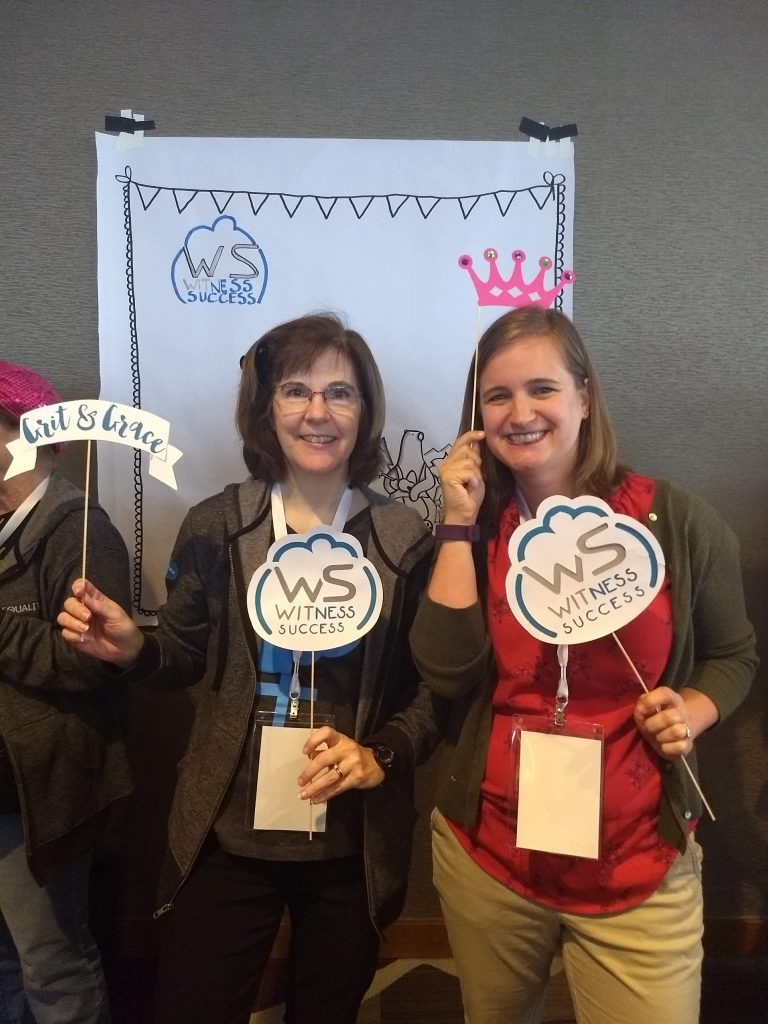 Happy Hour photo booth with Carol Matsumura, Raleigh-Durham, NC Nonprofit User Group leader – love seeing my local colleagues at National events!
WITness Success is Special
WITness Success takes that community feeling to the next level by focusing the care, support and sharing that we experience every day through the Trailblazer Community and Twitter. They do this by focusing all of that energy on celebrating the accomplishments of women and providing the space to connect over our common life experiences. They don't restrict attendance to women though – any person regardless of age, gender, race, ethnicity or sexual orientation is encouraged and welcome to attend.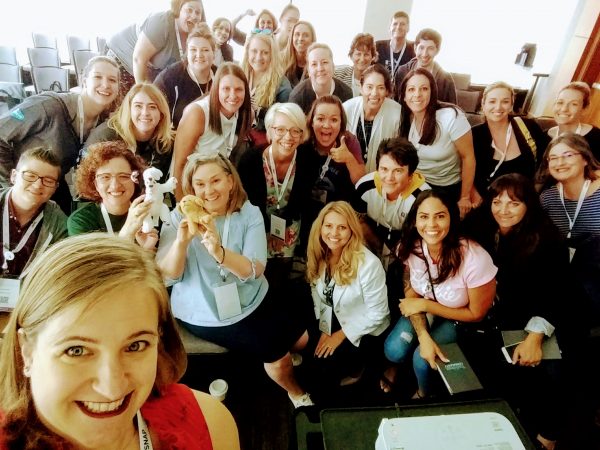 Self Compassion and First Time Speaking
WITness Success started with a series of workshops. The Mindfulness Self-Compassion session was the perfect way to start the conference – with a focus on being present with our feelings and encouraging ourselves to be more self-compassionate. We've always heard to 'treat others how you'd like to be treated', the Golden Rule. This session flipped that notion on it's head, 'treat yourself how you would treat someone else'. Women are notoriously hard on themselves and being constantly negative releases adrenaline and cortisol maintaining a constant state of the fight or flight response. We can combat these habits by mindfully supporting ourselves, even verbally while alone and to a mirror.
It sounds silly, I get that. But it totally works. The next morning, I was getting ready for the day – the day of my first time speaking at a national conference. I normally get very anxious speaking in public, even going as far as to enter into a full blown panic attack. That morning, I hugged myself and talked positively and reassuringly to myself about the session. I said everything to myself that I would have said in support of someone else speaking for the first time. When it came time for the session, I wasn't nervous AT ALL. The only adrenaline I felt the whole day came after the session completed, and it was only excitement from it having gone so well.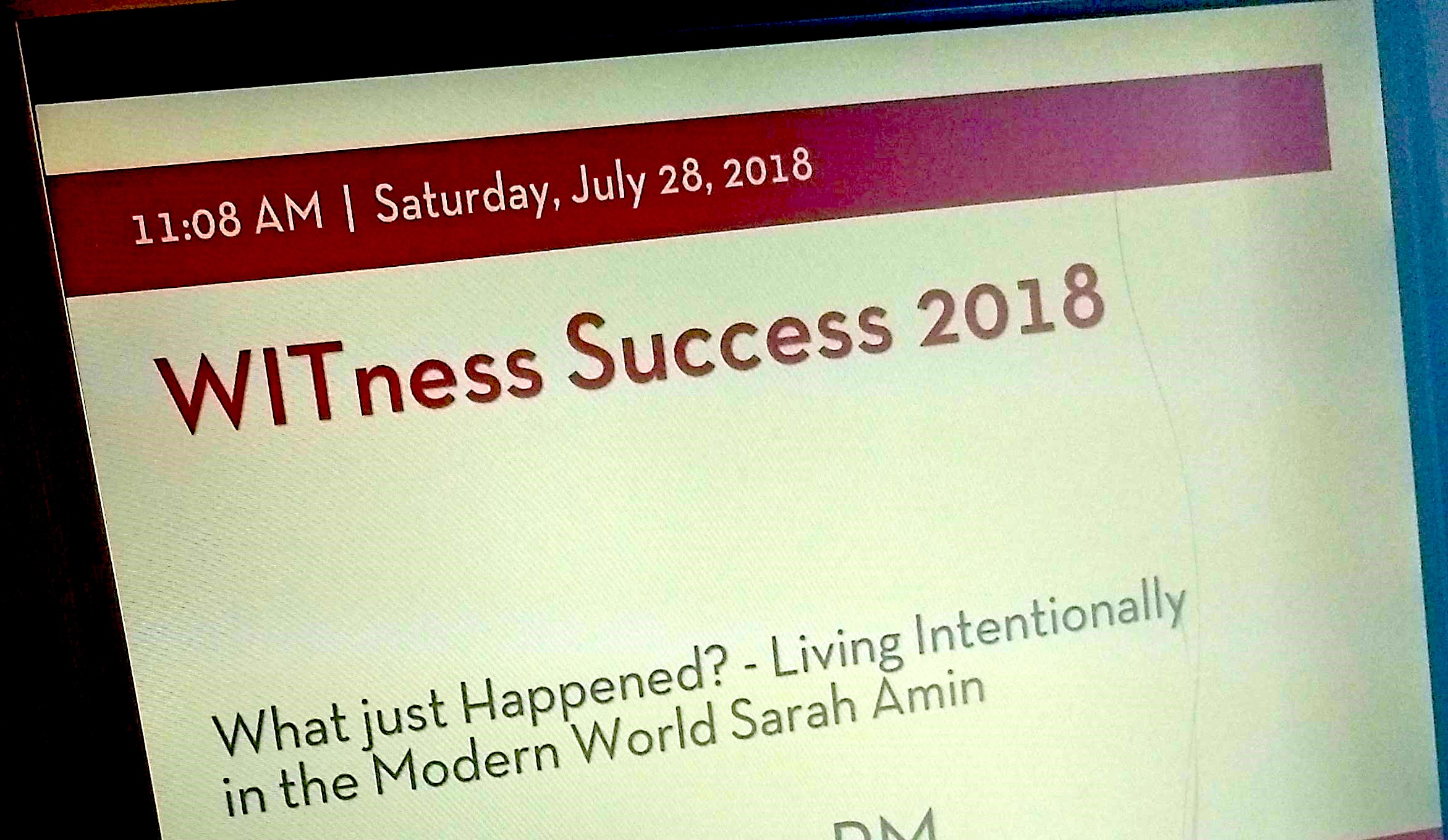 Session screen outside of the room – it says my name!!
Shine Theory and Intersectional Feminism
That adrenaline carried me through the rest of the two day event. Some of the community's most supportive individuals were in attendance. Thought provoking conversation, words of support and encouragement from those that attended my session and motivational sessions made up the duration of the event. Two concepts were woven into the closing panel: Shine Theory and Intersectional Feminism.
As stated by Ann Friedman, Shine Theory is the idea that "I don't shine if you don't shine". The more I get exposed to the Salesforce #Ohana, the more I alter my view on how I need to act towards other women in my career, but this sentence alone challenged my world view to the core. I started to think about the things I've done to help other women shine – giving a good friend the opportunity to lead a Salesforce user group by stepping down from my post, shouting out the amazing work of other women via Twitter, giving Kudos to coworkers on our all staff meetings to highlight the amazing things they've done. I realized helping others shine is something I had naturally started to do, but now, I'll be working on it with much more intentionality.
Intersectional Feminism was another key topic from the closing panel – the concept that our struggles as women are not from gender alone, but are also from sexual orientation, race, age – to name a few. The topic helped me to see my privilege as a white woman in a new light – that I even though I've struggle in High School or college, at least I had access to a good high school and to go to college. The closing panel highlighted their '&' – the other things about them that have made their lives a more challenging or that have put roadblocks to them being their best selves.
The closing panel, in addition to all of the other sessions and conversations at WITness Success, left me with a lot to think about hand have challenged my worldview in the best possible way. Continuing to challenge our worldview is the only way that we can continue to grow and evolve as a community. For this reason (among many others), I plan to attend every WITness Success. The only disappointment from the entire conference is it had to end! The date and location of next year's WITness Success hasn't yet been announced, but you can bet that I'll have it on my calendar as soon as it's announced. I hope to see all of you there too.