Manage Grants with the Outbound Funds Module
A Salesforce-based grant management platform for nonprofits and foundations.
What is the Outbound Funds Module?
The Outbound Funds Module is the most widely used Salesforce-based Grant Management system. This free, open source product is installed directly into Salesforce and uses existing Salesforce features and tooling. Its highly configurable architecture streamlines management of:
Funding programs – Create unlimited funding programs that indicate total funding available, requested, and paid.
Funding requests – Track funding requests, including total funds requested, funding program applied to, status, completed and outstanding internal tasks, and applicant contact information.
Applicant and grantee requirements – Manage items owed to your organization or owed to the grantee.
Disbursements – Record and schedule disbursements of funds, and track this data at the grantee, funding program, and global levels.
The core version of the Outbound Funds Module can be installed for any Salesforce org.
Organizations can also leverage an extension with the Nonprofit Success Pack to combine grant management and donor management functionality in their system.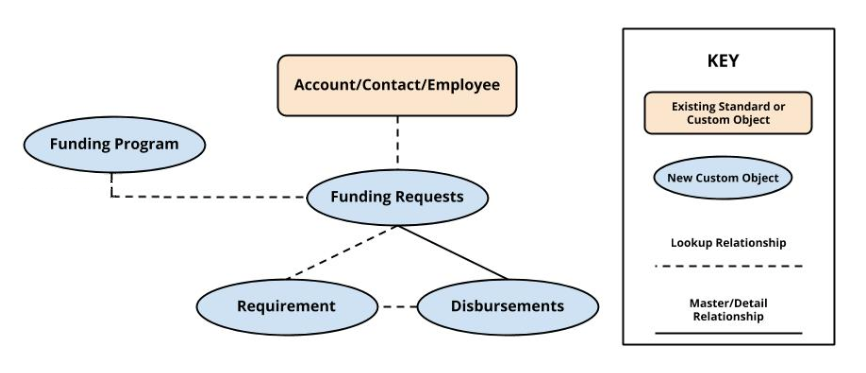 History of the Outbound Funds Module
The Outbound Funds Module was developed by members of the nonprofit Salesforce community with input from grants administrators, foundation executives, Salesforce developers, consultants and admins. Since its release six years ago, the OFM has been adopted by hundreds of nonprofits and foundations. The OFM continues to provide an open-source, no-cost grant management tool, built inline with Salesforce's core features.
The Outbound Funds Module includes:
Extensive customization to Salesforce to architect grant management from scratch. This can result in a system that closely aligns to the organization's processes. However, it can be costly, difficult to maintain, or make it hard to collaborate with other like organizations.
Purchasing and implementing a fully configured product, which can provide robust functionality out of the box. But all-in-one products can also be challenging to adapt for unique needs.
What are the Benefits of a Grant Management System Built on Salesforce?
The Power of Community
A shared data model for grant management means that grantmakers can customize their own systems and still align with (and help define) industry best practices. By standardizing with peers on a common platform, grantmakers can more easily collaborate and learn from each other's processes and approach. They can harness the incredible power of the Salesforce community to promote the product's continual evolution in response to their real & changing priorities.
Flexibility to Meet Unique Needs
The Outbound Funds Module is an intentionally light framework, making it a flexible option to meet the unique needs of a variety of organizations.  Use cases for the Module range from competitive grants, regranting, designated funds, grants to individuals, and more. The Module is a great option for organizations of varied sizes and approaches because staff can add customization to suit the way they work. The system then becomes a tool that matches the unique ways that organizations work. 
The Potential of a Platform
Salesforce's platform-based model enables organizations to add or integrate functionality for application management, digital engagement, finance and accounting, and more. And, it provides best-in-class functionality for fundraising, event management, marketing, and analytics. Because Outbound Funds is built with native Salesforce features and tooling, organizations are not limited in leveraging these other features or in their choice of connected systems.
Where Can I Learn More about the Outbound Funds Module?
North Peak's team is available for exploratory conversations as you consider whether an Outbound Funds-based solution is a good fit for your organization.