No, really…. you should go.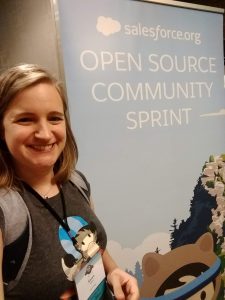 That's what I tell people who ask about my experience after each of the Salesforce.org Community Sprints that I've attended. Sprints are hard to describe to anyone who hasn't gone. It's like telling friends from home about summer camp– you try to explain, but you end up saying, "You just had to be there."
A simple explanation is that Sprints are events where the Salesforce nonprofit and educational communities come together to solve problems, answer questions, and build stuff that benefits the entire Salesforce.org ecosystem.
The people who gather at Sprints and the work they do to make the world better are important to me. So, to help others find this awesome community, I'm going to do my best to to explain what it's really like to attend this summer camp for adults, through the lens of my very personal journey with these events.
Chicago Sprint: 2017
By late 2017, I'd navigated a lot of major professional and personal transitions, and it had taken a toll.
Ahead of the Chicago Sprint, in August 2017, my stress level was at an all-time high. I didn't even know who I was anymore. I wasn't comfortable being in my own head.
I arrived at the event full of anxiety and uncertain about how the day would go. It started off with a mindfulness session led by the amazing Ashima Saigal. Her guided meditation was a real and immediate turning point for me. Being alone with my thoughts but calm, accepting, and present was a completely new feeling, and one I knew I wanted to explore beyond her session. Needless to say, the experience was off to a good start.
And it didn't end there. Sprints are 'unconference style' events, where attendees get to pick the content, based on what matters to them. Anyone can bring their ideas to the table. At the time, I was really interested in learning more about Grants Management because one of my clients distributes funds they raise to their chapters. At the time, NPSP didn't have a great solution for that, which I saw that as a big gap in their flexible, open source framework.
Amazingly, there were other attendees who'd brought the same idea to the Sprint. And that's when the Outbound Funds community project was born.
It started as a discussion, turned into a debate, and ended up as a data model. By the end of the two-day event, we had a prototype and a plan of action. We had created something tangible in TWO DAYS! It was nowhere near a finished product, but the team we had assembled was in it for the long haul.
I left the sprint with a sense of purpose and a lot of optimism– we were really going to solve this problem for grantmaking organizations and fill a critical gap in open source solutions.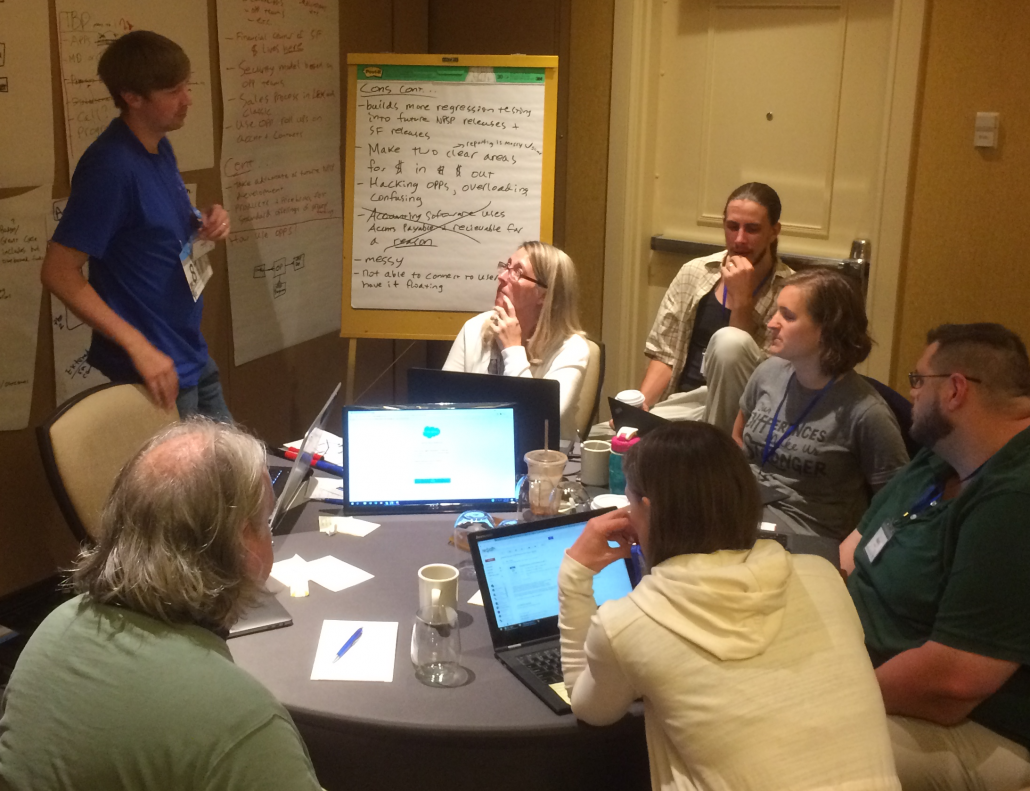 Time to Reflect
After the awesome experience in Chicago, I knew I just had to get back to a Sprint. They happen three times a year, but I couldn't fit the next one into my schedule. I spent the time in between Chicago (August 2017) and Denver (August 2018) committing to two things:
Continuing to explore and practice mindfulness, self awareness, and being present in my life
Leading the Outbound Funds community team to launch a managed package for the Outbound Funds app
And I followed through! I developed a mindfulness practice. It helped me deepen and improve my relationships, which made my life feel richer.
Being part of the Outbound Funds project was, and is, rewarding and invigorating. In the time between sprints, we met regularly and became a tight knit, highly collaborative group fully committed to getting this app launched.
Though I wasn't at the Sprint in Orlando in March 2018, I contributed from afar, putting together a list of 'asks' of Sprinters. After the event, team members who attended were enthusiastic and full of great, new, big ideas. I couldn't wait to for the next chance to refuel my passion and excitement, and capitalize on the team's momentum.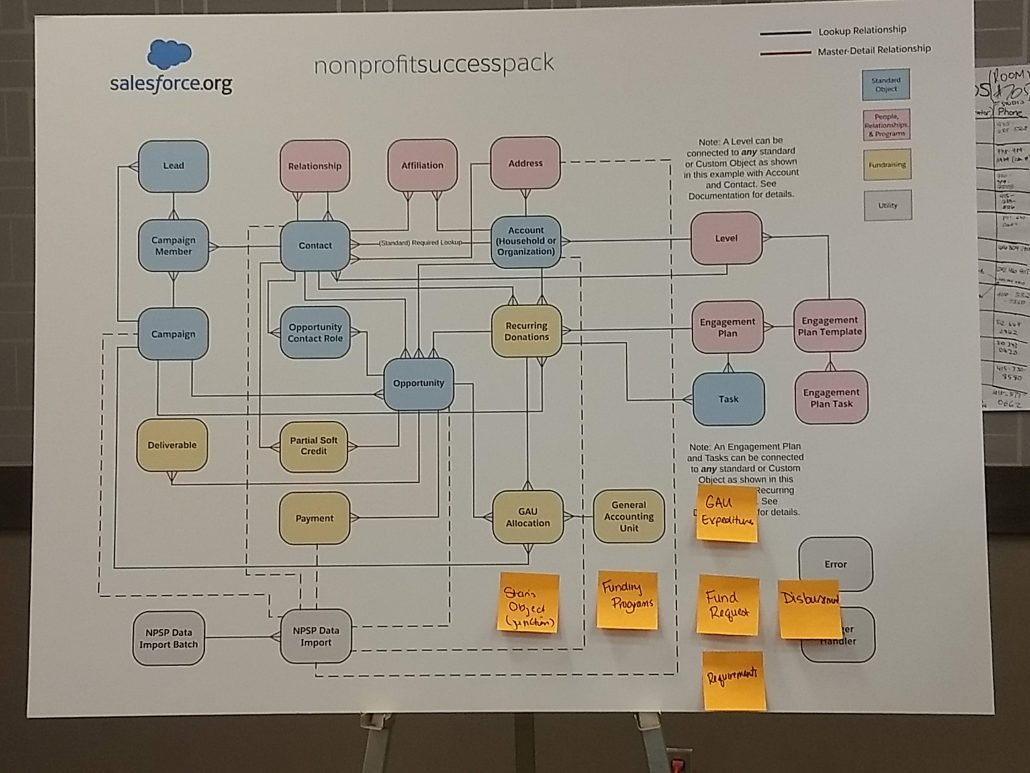 Denver Sprint: 2018
My trip to Denver was a big turning point for me. It started with WITness Success, the national conference celebrating women in technology in the Salesforce community. And, I was speaking.
It was my first opportunity to present at a national event, and it went better than I could've hoped. It was the first time in my life where I did something like this and didn't feel wracked with anxiety. Instead, I felt confident and present. I was thrilled by the audience's response– people shared with me how much they enjoyed the session.
I headed to the Sprint feeling affirmed that I was on the right path professionally and personally.
The lobby at the Sprint venue felt like a family reunion. Sprints feel like summer camp for adults, but it's not just about having fun-–it's about conquering something challenging together. The experience develops bonds faster and deeper than any other conference I've attended. So when I ran into folks I'd met in Chicago a year earlier, we hugged hello and chatted like besties.
Denver was very different than Chicago, but equally amazing. It was my first time at an Open Source Community Sprint (and the second ever organized), which combine nonprofit and education community contributors across North America. Bringing the two sectors together did something really special: it allowed contributors to identify areas where similar needs exist for both types of organizations and to exchange learnings. That's some bipartisan goodness I really wish would happen in other meetings these days.
The Outbound Funds team was focused on features and automation that would take the package to the next level. And, the Sprint was right around the time we released the package, so it was an awesome opportunity to get feedback from the community. All of the comments and questions we received were motivating and encouraging.
I left Denver feeling incredibly proud of myself and of the Outbound Funds team, and, like after the Chicago sprint, excited about what was on the horizon for both.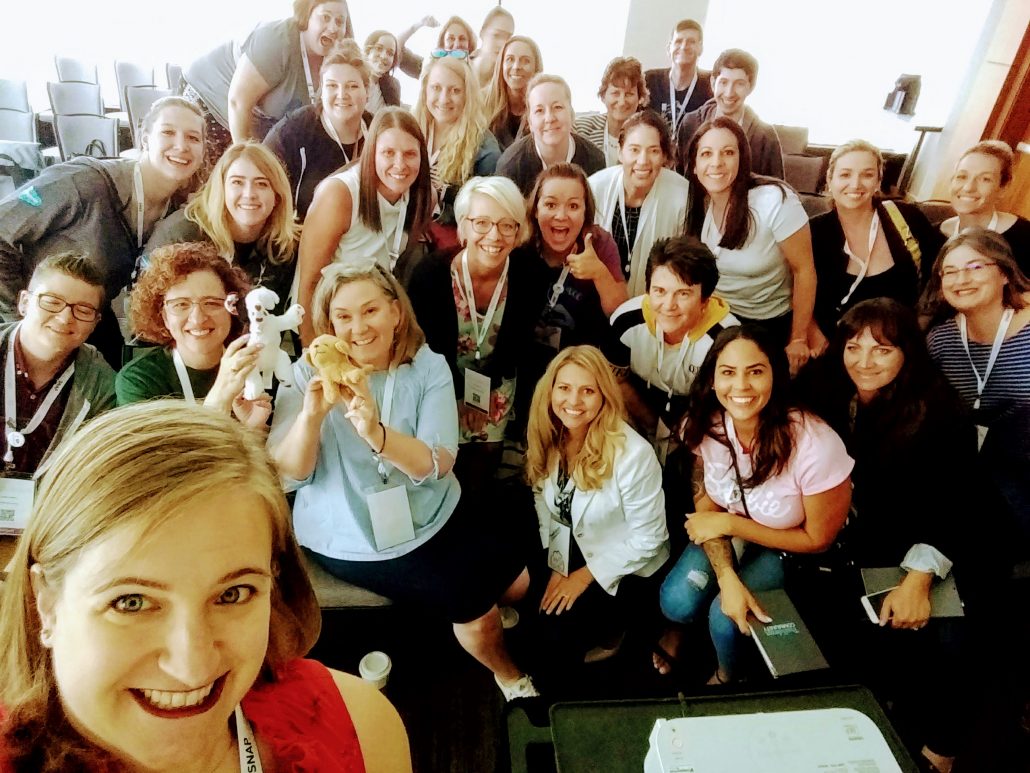 Building Community
I've talked a bit about the community I saw and helped create at the Sprint, but it goes beyond working groups.
In both Chicago and Denver, Sprinters had full access to Salesforce.org community support team members, product managers, developers, and others. They were sitting at our tables, giving us direct help, feedback, and advice that elevated our contributions. Salesforce.org's Jason Lantz, who designed CumulusCI , sat with our team and shared ALL of his knowledge. This powerful tool is changing the way we update and release Outbound Funds. What other major organization opens itself up to its user and partner community like that?
There were also times where I was working closely alongside organizations just like mine – Salesforce.org consulting partners that work with nonprofits or educational institutions. Outside of the building, some would consider us competitors. At the Sprint, though, we were collaborators and colleagues. We were able to take our wealth of knowledge from working with a variety of clients and organizations and give something back on a scale we couldn't do independently.
This community gave me the space and confidence to chart exciting, challenging paths personally and professionally. I'm grateful for the experience and for the people at Salesforce.org and everyone in this ecosystem who help make Sprints transformative experiences.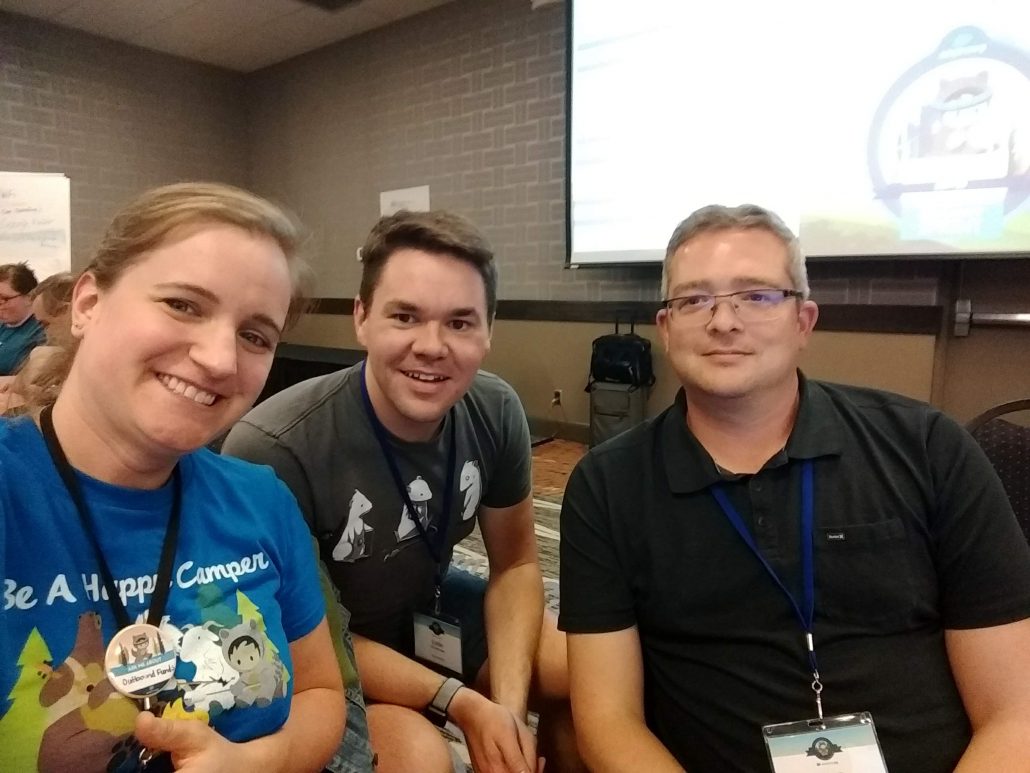 Closing Circle
Every Sprint, no matter how large, ends with a closing circle. We talk about what we accomplished and our next steps after the Sprint. It's a profound moment of reflection–we can see just how much has been accomplished, whether it's a conversation had, a feature designed, or documentation written.
With that in mind, I leave you with this: Attending Sprints has a powerful impact on my personal and professional life, as well as on my outlook on our community. My next steps are to make it to one Open Source Community Sprint in 2019, and every year… and you should join me! The next one is coming up in Long Beach, happening February 19-20. If you can't make this one, check out the other Salesforce events happening this year.
Sarah joined North Peak in September 2015, after three years working as a Salesforce administrator in the private sector. With Salesforce Administrator, Advanced Administrator and Platform App Builder certifications, she's applies her Salesforce expertise to design sophisticated solutions for nonprofits. Sarah has a passion for database management with experience administering several vastly different CRM systems. In her previous positions, she honed her skills in data analysis, which she applies to reporting, dashboards and assessing data integrity.
Sarah currently resides in Durham, North Carolina with her husband and kids, and enjoys spending time with them gardening and cooking.