The inaugural Nonprofit Dreamin took place last week. For two days, 1300+ individuals from different parts of the world collaborated, learned, and networked with other nonprofit professionals in the Salesforce ecosystem. 
As someone relatively new to the Salesforce community, this was not only my first Dreamin event, it was also the first virtual event that I've helped organize. What follows is my journey.
What is Nonprofit Dreamin, and how did it start?
Dreamins are community-led events for the Salesforce Community by the Salesforce Community. In any given year, there are many Dreamin events all across the globe open to all Salesforce users. Nonprofit Dreamin was an idea that had been swirling around trailblazer and community group leader Melissa Hill Dees' head for some time. She envisioned an event that would bring together just nonprofit professionals to collaborate, learn best practices, network, and build connections in the Salesforce nonprofit ecosystem. 
At a time when we were all stuck at home, learning new ways to balance work and life, the nonprofit community was also feeling the effects of the COVID-19 pandemic. They were being asked to fill more significant needs with fewer resources. Nonprofit Dreamin could not have come at a better time. But such an undertaking was no easy task, requiring a lot of planning, dedication, and help from the community.
Behind the Scenes!
After grad school, I found myself searching for new opportunities to learn. This path led me to Salesforce and the Trailblazer Community. I came across the Decatur Alabama user group, led by Melissa Hill Dees. Her weekly Nonprofit Social Hour was a great way to connect with others in the Salesforce ecosystem and where I first learned of the idea for Nonprofit Dreamin. When Melissa asked people to join exploratory sessions about the event, it was incredible to see how many people volunteered. And so it began! 
One of the first things we tackled as a group was creating a V2MOM  which is a management process that stands for vision, values, mission, objectives, and measures. Created in 1999 by Salesforce Founder and CEO Marc Benioff, the management process has been crucial to Salesforce's success. The V2MOM approach ensures everyone can provide input and feedback to create buy-in, alignment, transparency, and unity across an organization.  When we went to work on planning the actual event experience, we were clear on our vision for the event: we didn't want this to be just a bunch of "talking heads." We wanted it to be a place where attendees could learn while also interacting and networking with fellow attendees.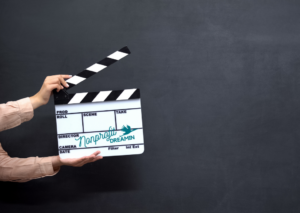 I joined planning committees for logistics, marketing, and volunteer management. Each committee had unique tasks and deliverables. These committees also met regularly to work through their tasks. The logistics group was tasked with finding an online event platform, creating the overall look and feel for the online experience, and helping with backstage management the day of the event. The marketing group was tasked with social media posting, website, and email marketing. The volunteer committee created and delivered training material for volunteers.
I was fortunate enough to volunteer alongside dedicated and equally passionate individuals who didn't think twice about stepping in and helping where needed, which meant the world to me when my family was personally affected by COVID-19 a week before the event.
The night before the two-day event, the sleep I desperately needed didn't come, and I found myself excited and a bit nervous. This was, after all, the inaugural Nonprofit Dreamin. We had no template to follow, and for someone who had never attended a Dreamin event, let alone helped plan one, it was all a bit overwhelming. On Thursday, January 28th, at 10 am EST sharp, Melissa delivered the Welcome message for the first day of the conference, setting the stage for the events that were soon to follow. My nerves eased, and the excitement of what was about to happen took over.
Favorite Sessions
The event offered sixteen sessions over two days, along with carefully tailored networking opportunities. For those two days, I shifted between attendee and volunteer, helping presenters behind the scenes.
The content committee worked so hard at making sure we had great sessions, so coming up with favorites was hard. But if I had to choose, these were some of my favorite sessions:
Challenges for Solo Admins and How to Overcome them presented by Mark Jones: Feeling alone, overworked, underpaid, and doing everything on their own–these are some of the challenges solo admins face, as Mark so eloquently described in this presentation. I particularly enjoyed this session because Mark not only captured what most solo admins struggle with day in and day out, but he offered some great tips on ways admins can tackle these challenges.
Salesforce's New Grants Management Solution: Outbound Funds Module presented by Maura Hackett, Nell O'Connell, and Shari Carlson: Outbound Funds Module (OFM) might be the new kid on the block when it comes to grants management tools, but this conversation-style presentation between Maura, Nell, and Shari offered some real use cases. We not only got to see a demo on key features of the product, but we were also able to hear from Community Catalyst and NEO Philanthropy on why they chose OFM and how the organizations are using it.
What the Text presented by Megan Himan: Texting is a great way to engage supporters. In this session, Megan highlights the importance of understanding your goals before hopping on the latest platform train. Megan's energy as a presenter was palpable. I truly appreciated the use of props to showcase the different functionalities and use cases of tools such as Phone2Action, Mogli, Avochato, Proton Text, and more. I walked away understanding a bit more about apps-to-person, real human (peer-to-peer), and niche texting tools.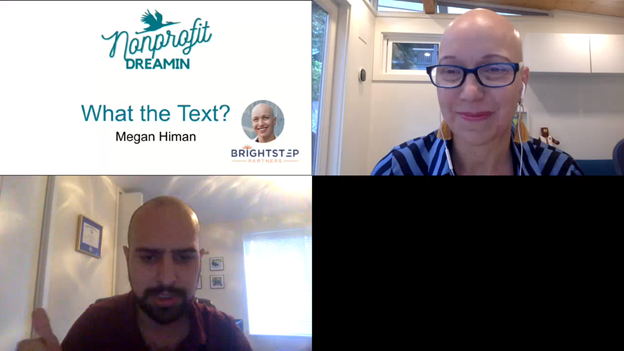 How I empowered my users with personalised, skills-based training pathways presented by Lauren Weller: User adoption is a crucial part of any successful CRM implementation. But what do you do when dealing with staff feeling negative about Salesforce? What if training needs vary between groups? How do you approach individuals who feel overworked and under-resourced? Lauren shared her 5-point plan and key takeaways that admins can use to tackle these challenges.
Office to couch in two weeks: Transitioning 2,000 Salesforce users to securely work from home presented by Jon-Paul Cameron and Zsófia Barbalics: This was a session after my own heart. As someone passionate about helping young people learn and grow, I was looking forward to hearing about NCS, National Citizen Service Trust, an organization focusing on engaging, supporting, and empowering young people to build confidence to help them achieve their dreams. Providing NCS staff a way to continue to make a difference became increasingly difficult during COVID. In this session, presenters describe how they went to work leveraging Salesforce to support their 2,000 staff, partners, parents, and young people during the lockdown.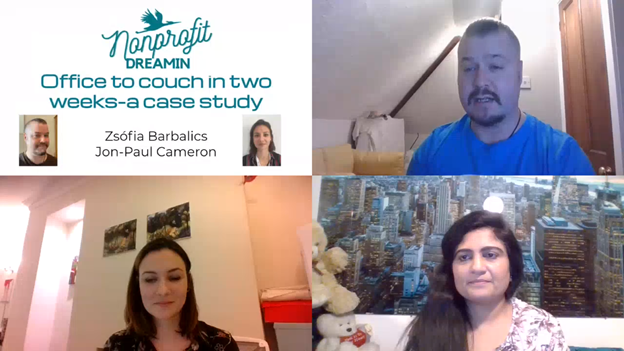 Final Thoughts 
I had a great time connecting and collaborating at the event. The energy before, during, and even after the event was through the roof.
I think it's safe to say that it was an unforgettable experience for everyone. We learned many new tricks and ways to manage our own Salesforce orgs and learned a lot about our Salesforce community. Whether you attended the event searching for tools and best practices for your org, or you just wanted to connect with like-minded individuals, I hope that we were able to provide that for you. I'm tremendously inspired by this community and the things we can accomplish.
To learn more about Nonprofit Dreamin please visit nonprofitdreamin.org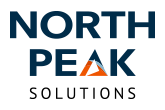 About North Peak
North Peak helps nonprofits and foundations increase institutional intelligence through healthy CRM (constituent relationship management) and/or GMS (grant management system) systems and practices. Contact Us to learn how we can elevate your organization's impact.